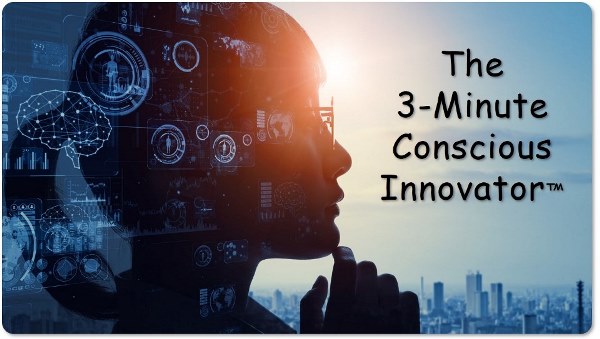 25 "Jolts" to Stimulate Your Mindset, Process, and Culture for Human Centered Innovation.

We're on a mission to inspire and guide every person to be a "conscious innovator," and YOU'RE INVITED to join our free process! Our aim is to give you and others a new way to bring out your unique innovative potential in life and work.
Each week we'll introduce a new thought-provoking "Jolt" that you can try on, and then share your insights and feedback. (Based on the work of Thiagi, a "jolt" is a brief experiential message that delivers a wake-up call. An effective jolt is short and to the point, but provides enough insights for sustained learning and motivated action.)
There will be a total of 25 Jolts:
10 jolts related to "Mindset"
10 jolts related to "Process"
5 jolts related to "Culture"
You'll receive an email when each Jolt is posted, with a link to the new jolt. You can add your feedback as often as you would like, and go back to previous Jolts if you wish. Throughout the process, you'll also learn from the experience and comments of others.
What can you do in 3 minutes? Being a conscious innovator has a 3 phase cyclical process: become aware, capable, and versatile. After reading each jolt, you can take 1 minute each to:
Become aware – What is 1 new awareness you have about yourself, others and your situation?
Identify your capability – What is 1 personal value and 1 strength you can draw from and put into practice?
Take versatile action – What is 1 action you can take to apply your awareness and capability in ways you have not thought of before?
It's like a sport or gym workout: each time through the cycle, you become ever more aware, more capable, and more versatile: A Conscious Innovator™!
As we gather everyone's input, we'll summarize what we're learning into a blog – and you'll be the 1st to receive notice of a new blog. To thank you for your participation, you'll receive a FREE COPY of the BOOK we'll be writing and a FREE SUBSCRIPTION to the ONLINE COURSE that we'll be developing along the way!
So, please sign up for FREE and join us! Just go to this link and follow the easy directions: https://innovate.vci.global/p/the-3-minute-conscious-innovator
One last thing… We hope to get as many people worldwide to participate and share their insights and wisdom!
If you think a friend or colleague would enjoy and benefit from taking part in this process, PLEASE DO THEM A FAVOR AND PASS ALONG THIS INVITATION so they can join us for free. Thank you for helping us get the word out!
Being a "conscious innovator" can be life changing. We sincerely appreciate you for joining us in this exploratory process. We look forward to your participation, insights and feedback all along the way!